Curbside Shopping at The Science Shop
Shop SMO, Curbside!
Your purchases support the museum you love in a time when we need it most.
We're debuting a new selection of items every week — you can shop any day for pick up Monday-Friday, 10 a.m. to 5 p.m. Members, you'll get your regular 10% discount on all purchases when you log in!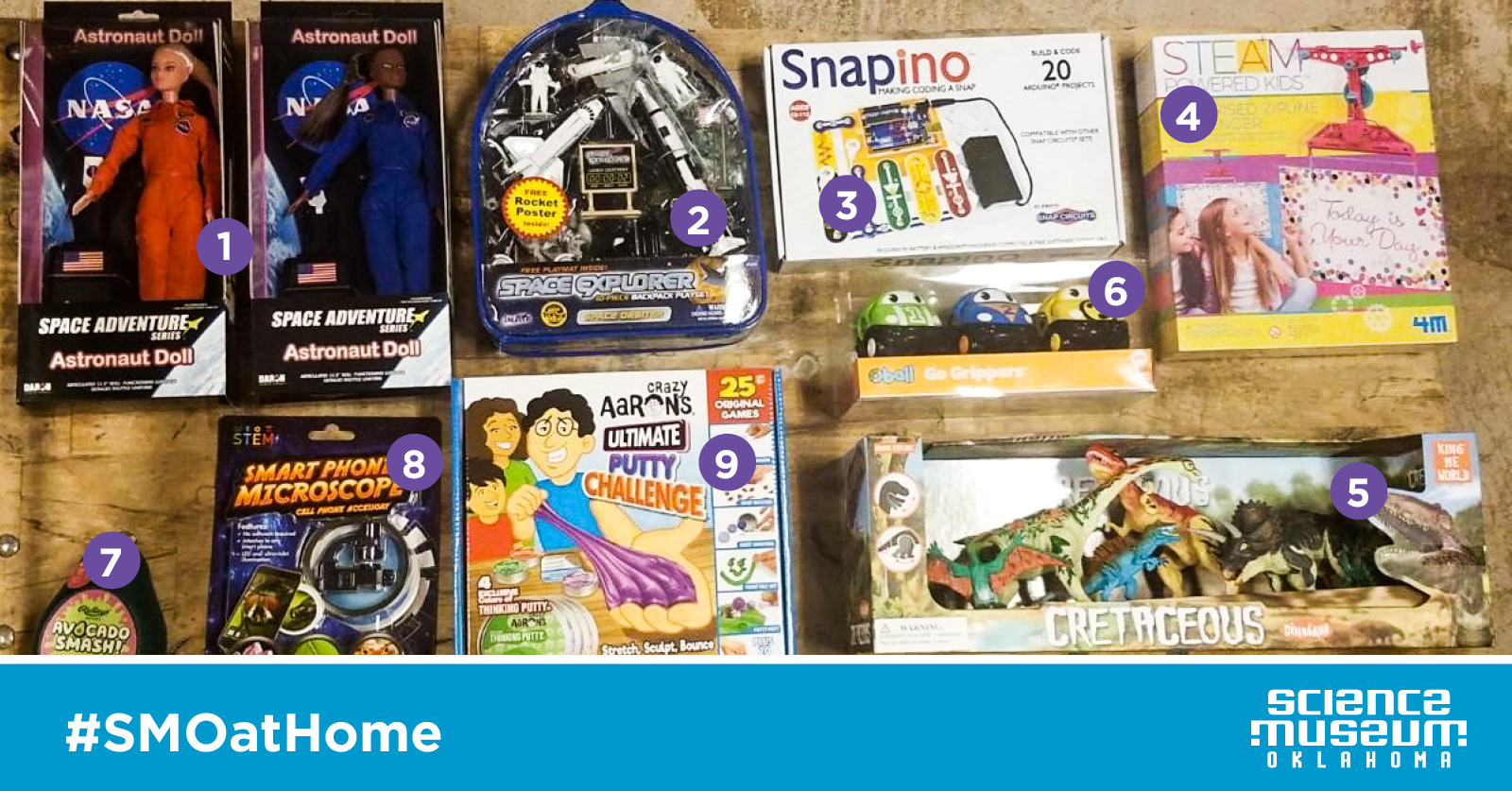 Science Shop items for June 30 - July 10
1. Astronaut Doll – Articulated 11.5" Doll with functioning luggage and detailed shuttle Uniform.  Ages 4+.  $18.99 BUY NOW
2. Space Shuttle Backpack – Includes 10 pieces and a playmat.  Ages 3+.  $25.99 BUY NOW
3. Snapino – Makes coding a snap!  Build and code 20 different projects.  Ages 12 +.  $52.99 BUY NOW
4. Motorized Zipline Messenger – Send and receive messages in a brand new way with this two-way zipline that you build on your own!  Ages 8+.  $20.99BUY NOW
5. Cretaceous Dinosaur Set – 6 Articulated Dino set.  Ages 4+.  $25.99 BUY NOW 
6. Oball Go Grippers – Race Car 3 pack.  Encourages little ones to pull, grip and roll.  Ages 6 months +.  $18.99 BUY NOW
7. Avocado Smash – A fresh twist on the game of snap where you'll need to think and act quickly to win.  Ages 6+.  $12.99 BUY NOW
8. Smart Phone Microscope – 90X magnification.  Attaches to any smart phone.  No software needed.  Ages 4+.  $15.99 BUY NOW
9. Crazy Aarons Ultimate Putty Challenge – Includes 25 fun and fast- paced games.  Ages 8+.  $25.99 BUY NOW
Pick-Up How-To
When: You can pick up your order from 10 a.m. to 3 p.m. Monday-Friday.
Where: Science Museum Oklahoma, 2020 Remington Pl., Oklahoma City
What to do when you arrive: Call (405) 602-3754 when you arrive - we'll bring your order to your car!
Something for Everyone
The Science Shop at Science Museum Oklahoma is more than a gift shop! Stop by The Science Shop for help finding the perfect present for a science lover of any age.
From apparel to toys, puzzles, books, and kits for experimenting, The Science Shop offers fun items that invite curiosity, determination, and the love of science play.
Visit The Science Shop
Admission to the museum is not required to visit the Shop.
Shop SMO!
Why shop SMO? Museum members receive 10% off of regularly priced purchases in the shop, and shopping SMO is shopping local! Every purchase supports the programs and exhibits at Science Museum Oklahoma.
SMO Gift Certificates Available Online
SMO gift cards can be used toward museum admission, membership, programs, or for merchandise in The Science Shop. Gift cards cannot be redeemed in Pavlov's Cafe.