Curbside Shopping at The Science Shop
All purchases include a pass to visit the museum once we reopen!
Shop SMO while we're closed due to COVID-19! Your purchases support the museum you love in a time when we need it most.
We're debuting a new selection of items every week — you can shop any day for pick up Monday-Friday, 10 a.m. to 3 p.m. Members, you'll get your regular 10% discount on all purchases when you log in!
Check out the items for May 26-29th + get a pass to the museum to use when we reopen with your purchase!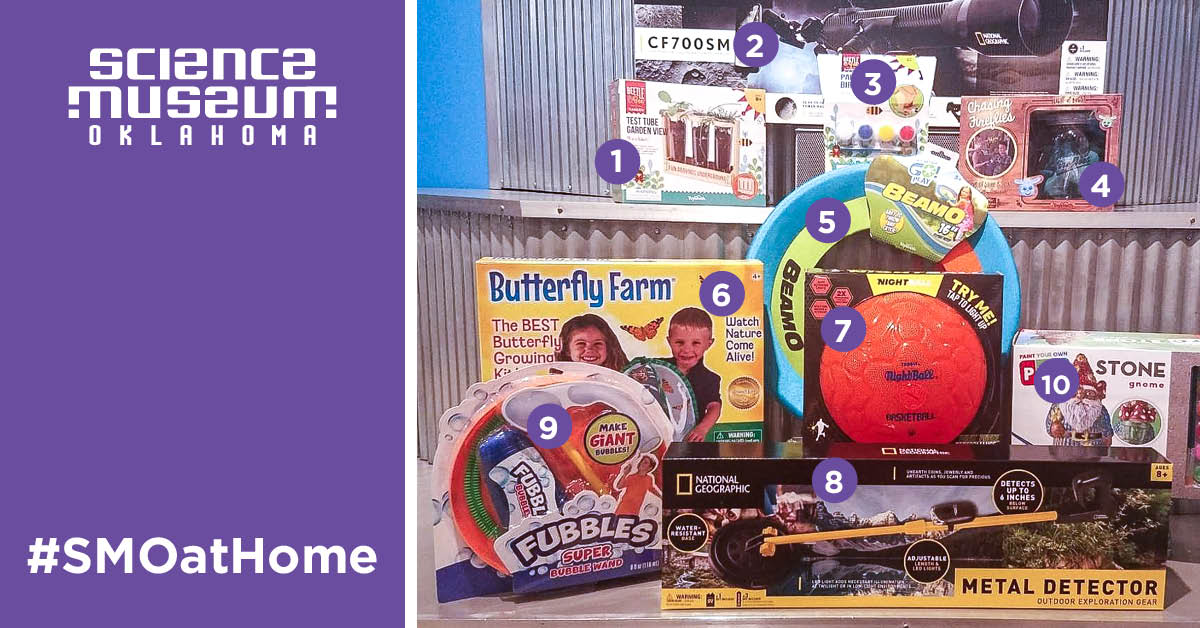 Science Shop Items for May 25-29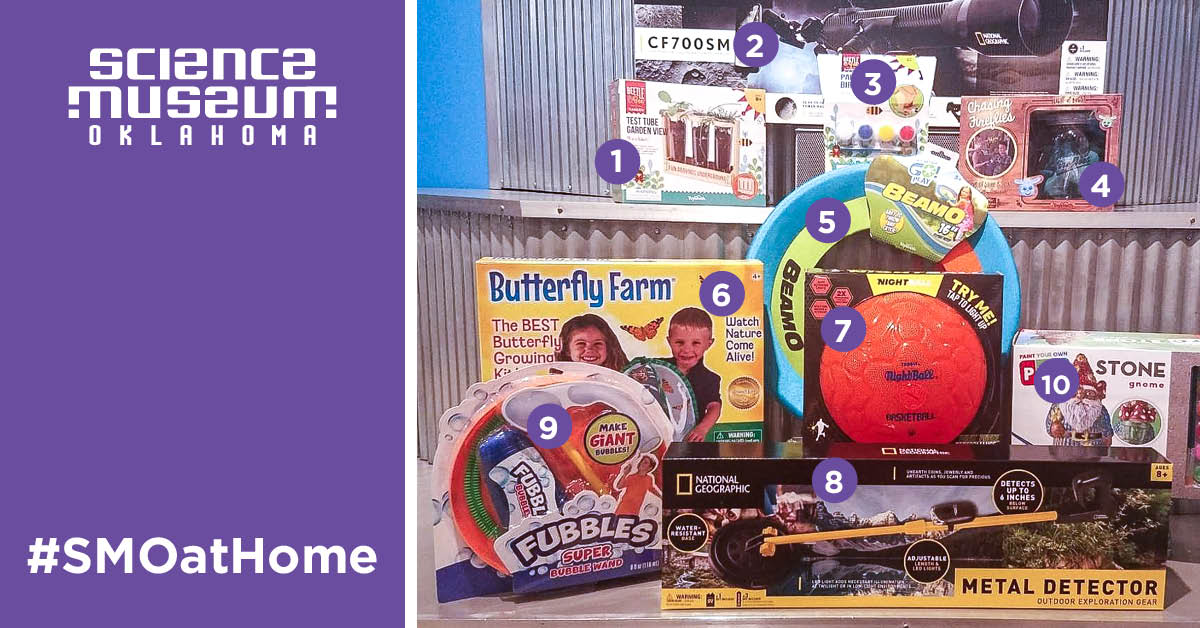 1. Test Tube Garden View – Watch your garden grow in test tubes.  Kit includes carrot, radish and onion seeds, wood stand, 3 test tubes, 3 peat pellets, drip tray and instructions. $14.99, Ages 8+ Buy Now
2. National Geographic Telescope – 70MM refractor telescope with a Z slow motion mount. Smartphone adapter included.  $138.99, Ages 10+ Buy Now
3. Paint A Bird Bistro – Paint your own birdfeeder! Paint brush and paints included. $15.99, Ages 3+ Buy Now
4. Chasing Fireflies Game – Fireflies light up in the dark and kids search up and down for the spark.  Catch all 5 and put them in your jar. Watch them glitter like stars!  $29.99, Ages 3+ Buy Now
5. Beamo – 16" Flying Hoop.  Easy to throw and catch.  Get outside and go play!  $11.99, Ages 5+ Buy Now
6. Butterfly Farm Butterfly Growing Kit – Includes the habitat, voucher for free baby caterpillars and instruction guide. $35.99, Ages 4+ Buy Now
7. LED Night Basketball – 2X double LEDs for maximum brightness. $25.99, Ages 8+ Buy Now
8. National Geographic Metal Detector - Detects up to 6 inches below the surface. Adjustable length and LED lights for twilight illumination. $42.99, Ages 8+ Buy Now
9. Fubbles Super Bubble Wand – Make giant bubbles!  Bubble solution included. $8.99, Ages 3+ Buy Now
10. Paint Your Own Stone Gnome – Simply paint, bake and display! $20.99, Ages 8+ Buy Now
Science Shop Items for June 1-5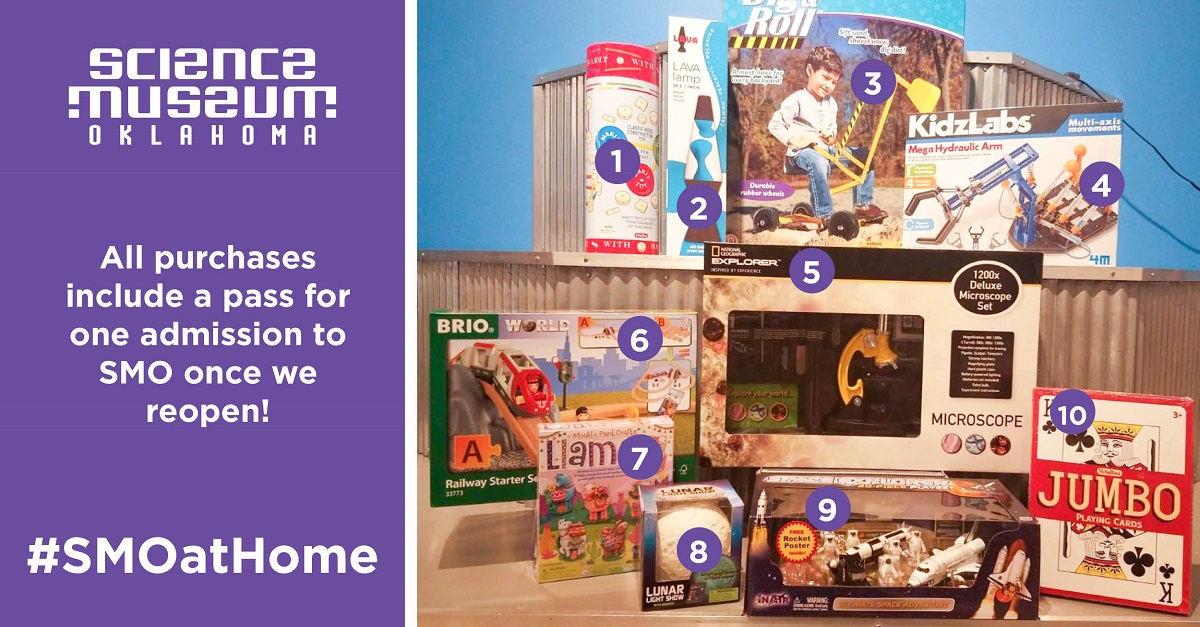 1. Makit Toy – 70-piece classis wood construction toy.  Ages 3+.  $25.99
2. Lava Lamp – Neon classic!  Watch the neon lava blobs and enjoy the movement of this timeless icon.  14.5-inch Neon Blue and Clear.  $24.99
3. Dig & Roll – Make you backyard a construction zone.  Dig, scoop, dump and roll with this sturdy all season toy featuring metal construction with rubber wheels.  Ages 3+.  $59.99
4. Mega Hydraulic Arm – Discover the amazing science behind hydraulic power!  Water is all you need to power this multi-axis robot!  Ages 8+.  $25.99
5. National Geographic Deluxe Microscope Set – 300-1200x magnification.  $76.99
6. Brio Railway Starter Set – 26-piece set includes tracks, tunnel, train and people.  Ages 3+.  $55.99
7. Mould and Paint Llama – Kit contains everything you need to mold and paint adorable plaster fridge magnets and badges.  Ages 5+.  $10.99
8. Lunar Light Show – 16 different colors and 4 light modes.  Remote control included.  $20.99
9. Space Explorer Playset – 20-piece ultimate playset.  Ages 3+.  $35.99
10. Jumbo Playing Cards – This oversized deck of cards is a giant 8x11 inches and includes 52 cards plus 2 jokers.  Ages 3+.  $10.99
Pick-Up How-To
When: You can pick up your order from 10 a.m. to 3 p.m. Monday*-Friday. *No pick up on Monday, May 25 (Memorial Day).
Where: Science Museum Oklahoma, 2020 Remington Pl., Oklahoma City
What to do when you arrive: Call (405) 602-3690 when you arrive - we'll bring your order to your car! The museum is still closed, so unfortunately we can't let you come inside for any reason.
Something for Everyone
The Science Shop at Science Museum Oklahoma is more than a gift shop! Stop by The Science Shop for help finding the perfect present for a science lover of any age.
From apparel to toys, puzzles, books, and kits for experimenting, The Science Shop offers fun items that invite curiosity, determination, and the love of science play.
Looking for Omniplex t-shirts?
Our limited edition vintage Omniplex shirts are no longer available. Stay tuned for our next special edition shirt!
Visit The Science Shop
Admission to the museum is not required to visit the Shop.
Shop SMO!
Why shop SMO? Museum members receive 10% off of regularly priced purchases in the shop, and shopping SMO is shopping local! Every purchase supports the programs and exhibits at Science Museum Oklahoma.
SMO Gift Certificates Available Online
SMO gift cards can be used toward museum admission, membership, programs, or for merchandise in The Science Shop. Gift cards cannot be redeemed in Pavlov's Cafe.