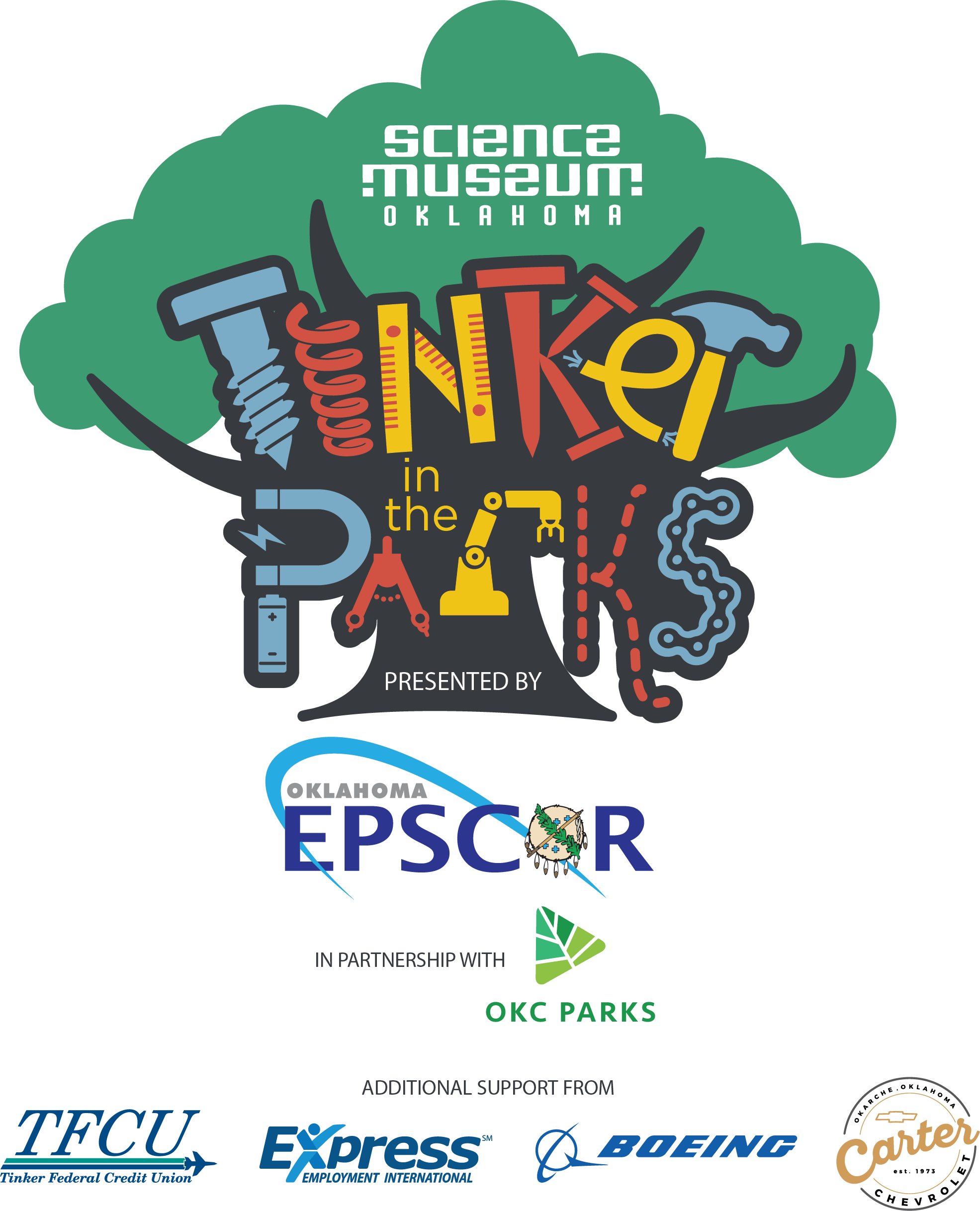 Tinker in the Parks is SMO's
newest community event!
We've teamed up with Oklahoma City Parks Department, local artists, makers, and tinkerers to create SMO's newest community event! Tinker in the Parks is your chance to visit metro area parks and participate in hands-on activities designed to help you explore your creative side. We'll have activities set up at SMO and eight area parks. Each park will host 2-3 activities ranging from robotics to comic book making. As for SMO, you'll get to help us take a car apart in our parking lot!
Masks are strongly encouraged and all activities will be set up to allow for proper social distancing.
Saturday, September 26, 2020
1 p.m. – 4 p.m.
All outdoor activities are free of charge 
Some activities are provided by our generous partners and may change.
Locations
Edgemere Park
Near NW 36th and Walker
Literati Press - Let's Draw Comics
Oklahoma Theremin Society - Playing the Theremin
Edwards Park
South of NE 16th St, between I-35 and Bryant
Spiritwind Kidz Ranch - Mini Wind Mills and Solar Experiment
Lincoln Park
Martin Luther King Ave. and NE 50th St., Just south of Science Museum Oklahoma
Oklahoma Museum Network - Stomp Rockets
Oklahoma 4H - Galaxy Bottles
Martin Park
West Memorial Rd. and North Meridian Ave.
American Heritage Girls - Ziplines, Cardboard Cars, and Bubbles
Martin Nature Park Center - Indoor Gardening
McKinley Park
North McKinley Ave., between NW 14th St. and NW 12th St.
Rose State College, STEM Outreach - Snap Circuits
Administrative Office of the Courts - Cardboard Cars and Bubbles
Science Museum Oklahoma
2020 Remington Pl. 
Carter Chevrolet - Car Take-Apart
Taylor Park
SW 70th St., between South Blackwelder Ave. and South Western Ave.
Combat Robots of Oklahoma - Combat Robots and Demos
Norman Firehouse Art Center - Innovative Foil Sculpting
Wheeler Park
Just south of I-40 on South Western Ave.
FIRST Robotics - Ozobots, Bot Demos, and Lego Bots
Woodson Park
South May Ave. and SW 29th St.
National Cowboy and Western Heritage Museum - Pack Your Wagon and Giant Puzzle
OSU USRI - Unmanned Systems Research Institute - Drone Flight Demonstrations