Free Admission at Science Museum Oklahoma's Tinkerfest, Sept. 29
September 19, 2018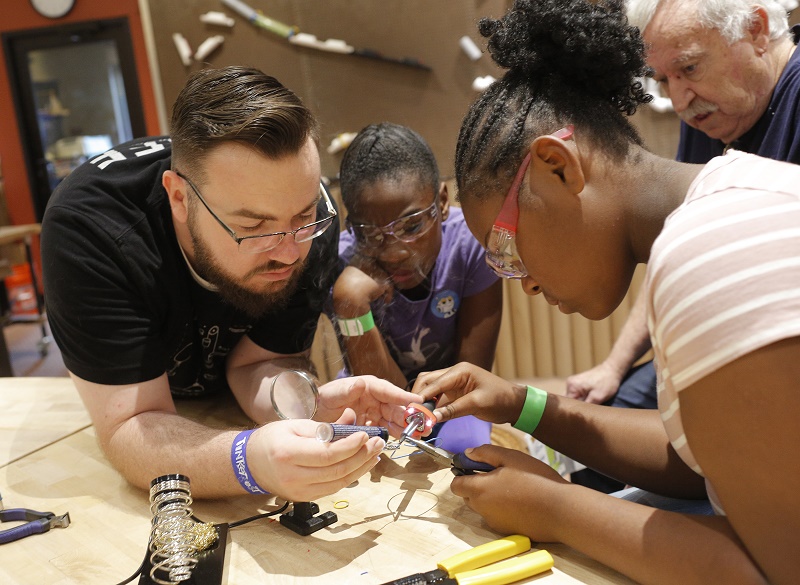 Science Museum Oklahoma guests will have the chance to take apart two entire cars, launch rockets, learn about 3D printing, try their hands at carpentry and much more — all at no cost — from 9 a.m. to 4 p.m. Sept. 29 as part of the museum's second-ever Tinkerfest.
Admission to the museum and all Tinkerfest activities are free thanks to the event's presenting sponsor, Oklahoma NSF EPSCoR, the National Science Foundation Oklahoma Established Program to Stimulate Competitive Research. In addition to Oklahoma NSF EPSCoR, Tinkerfest is sponsored by Allied Arts, Boeing and Express Employment International.
"Our inaugural Tinkerfest in 2017 set the bar high, and this year Tinkerfest is back with even more to explore. It is an experience like no other for our community," said Science Museum Oklahoma President and CEO Sherry Marshall.
"Tinkering is at the very core of learning — it gives us the chance turn an idea into reality. When we tinker, we discover how to act on ideas, we craft thoughts into actions, we collaborate and we let our imaginations run wild," Marshall added.
The daylong celebration of curiosity and creativity will encompass the entire museum and grounds, stretching from the museum's parking lot to its gardens. Tinkerfest will include more than 65 special activities presented by over 40 guest tinkerers including representatives from the Bella Foundation SPCA, City of Edmond Parks and Recreation, FIRST LEGO League, Francis Tuttle Technology Center, Mahogany Prime Steakhouse, Okie Comics, the Oklahoma City Orchestra League and the Oklahoma City Philharmonic, and many more.
"Oklahoma NSF EPSCoR is proud to sponsor this important event, which opens the museum up to thousands of Oklahomans for a fun-filled day of science experiences," said Ray Huhnke, Ph.D., Oklahoma NSF EPSCoR Project Director and Principal Investigator.
"During last year's inaugural Tinkerfest, many families and groups were able to visit the museum for the first time due to free admission through EPSCoR's sponsorship," Huhnke added.
All of the museum's permanent exhibits, as well as Science Live and the newly upgraded Kirkpatrick Planetarium, will be available during Tinkerfest.
Advance registration is not required, however guests must check in at the museum's box office upon arrival to receive a wristband which will grant access to the museum and all Tinkerfest activities. Tinkerfest activities will conclude at 4 p.m. and the museum will remain open until 6 p.m.
All Tinkerfest activities will take place at the museum located at 2020 Remington Place in Oklahoma City. Parking is free at the museum, and additional free parking will be available at Remington Park. Free shuttles to and from Remington Park will be available from 9 a.m. to 6:30 p.m.
For more information about Science Museum Oklahoma's Tinkerfest, visit www.sciencemuseumok.org/tinkerfest.
###